TRUSTFACTORY certificates to meet
All Your Needs
TrustFactory offers two different certificate categories, namely, SSL and Individual.
SSL certificates types depend on the validation level (domain validation versus organisation validation) and the number of websites(domains) to be protected.
Individual certificates add security to your emails and documents and help you authenticate yourself to online services
SSL DOMAIN From
$70.00
Secures One to Unlimited Domains
Strong SHA2 & 2048-bit encryption
Boosts your site's Google ranking
TrustFactory Seal
Domain Validation
SSL ORGANISATION From
$100.00
Secures 1 to Unlimited Domains
Strong SHA2 & 2048-bit encryption
Boosts your site's Google ranking
TrustFactory Seal
Organisation Validation
INDIVIDUAL From
$19.00
Email Encryption
Digitally Sign Documents
Supported by Most Electronic Signing Software
TrustFactory Seal
Individual Identity Validation
WHAT WILL YOU GAIN WITH A
SSL certificate?

Customer Assurance
The HTTPS and lock icon gives the customer confidence.

Seal of Trust
Trust is the foundation of SSL protocol and thus we adhere to strict validation guidelines

Safe to transact with credit cards
Give customers the peace of mind to make payments with credit cards by having an SSL certificate on your website

Better SEO Ranking
HTTPS-encrypted websites are favoured by search engines and thus will push your site higher in the search results.

Protect Sensitive Information
SSL Certificates protect your customers' sensitive information by encrypting the data they send to you, then decrypting it once you've received it.

World's Strongest Encryption
Our SSLs use SHA-2 and 2048-bit encryption to protect sensitive data. It's the strongest encryption on the market today.
How do SSL certificates work?
SSL certificate?
First, the SSL "Handshake"
All SSL sessions begin with an exchange of messages called the SSL handshake.
The handshake allows the server to authenticate itself to the client
It then allows the client and the server to cooperate in the creation of keys.
The keys are then used for rapid encryption, decryption, and tamper detection during the session that follows.
The Padlock Icon Appears
The padlock simply represents the fact that:
Communication to and from the website is encrypted.
Encryption means that no one else, besides that particular website, can read any of the details you enter there.
Secured Communication
Through the established secure channel, the client and the server use the session keys:
To encrypt and decrypt the data they send to each other
As well as to validate its integrity.
What will you gain with an
Individual certificate?

Digital Signatures
Digital signatures are the digital version of the traditional, legal signature on a paper document.
As with a legal signature, digital signatures provide the following security capabilities:
Authentication
Nonrepudiation

Encryption
Encryption is a method to exchange information such that it cannot be read or understood until it is changed back into a readable and understandable form.
Message encryption provides two specific security services:
Confidentiality
Data integrity
INCLUDED ALL
TRUSTFACTORY CERTIFICATES
SHA-2 and 2048-bit encryption
Compatible with all major browsers
Unlimited 24/7 security support
Unlimited free reissues
Protects unlimited servers
Displays a Security Seal on your site
Boost Google search ranking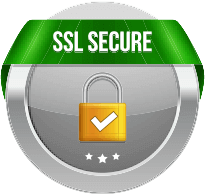 Need help? Call our support team on  +27 11 447 0024